Man, the 70's were like a Petri dish of bad taste.  Seriously, avocado and marigold yellow were the only acceptable modern color choices for the gigantic appliances that dominated an already vomit-ugly kitchen?  What's up with that?  Plaid high-water pants were in, as were ugly shoes and Winnie-the-Pooh raincoats.  Well, maybe they weren't actually "in" but they were cool in my house.  Here, take a look:
Anyways.  Here, come on, I'll take you back with me.
It's 1979. (in case you are wondering, by this point, I'd have outgrown those plaid pants)
Scene: 11-year-old me is lying on my bedroom floor, which is trendily carpeted wall-to-wall with last year's second-best green shag carpet.  The lights are out, with the exception of the cluster of Christmas lights I hung from a hook in the ceiling.  A craftier kid probably would have strewn them nicely about the room, like this.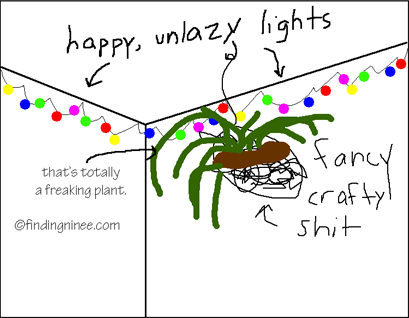 Not me.  I just hung them as a cluster from the hook that previously held an ugly macramé plant-holder-thing my mom made.  Those Christmas lights brought magic to my room.  Really.  Trust me when I say looking up at this shit was pure magic.  I can feel it now, too…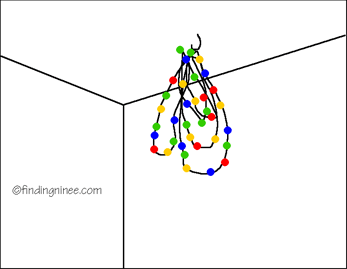 So, the lights are off with the exception of my Christmas-clump.  I'm lying on my kick-ass shag, being, living my  pre-teen Angst.  Age 11 is SO filled with angst. Tragedy,* even. It's that time in your life when your mom should have already discretely bought you a bra.  Except that you don't realize it until after all the girls on your soccer team pretend to be giggling at Harriet's hair on your Harriet shirt.  I cannot provide justice with words or drawing to the awesomeness that my Harriet shirt was, but, to give you an idea, my favorite shirt had cartoon-Harriet on it and Harriet had actual fringe as hair.  So like, you know, my shirt was 3D.  

It finally dawned on me that my soccer pals weren't actually digging the fact that Harriet's hair was 3D and that they were instead giggling at the fact that I had braless nub-boobs.  I didn't know that I was supposed to start wearing a training bra while still almost-flat.  I guess the idea was to use a training bra as a boob coach ("I am here when you're ready, you stubborn little assholes").  Obviously, I missed the Popular Memo about it and had the audacity to go to school, and soccer practice, with my itty- bitty, braless little nips.
Once I realized my gigantic social faux-paus, I obviously had to take immediate action. I approached my mom in private, and, as nonchalantly as an 11-year old is capable of being, said "Um, so, yeah, hey, Mom? Um, some of my friends are wearing bras.  The girls in Are You There God? It's Me, Margaret are wearing them, too.  I think I need one." She disagreed but said that we'd go bra shopping that weekend anyway.
Saturday morning rolled around.  We ate pancakes.  Everything about that morning remains clear to me today, 34 years later.  There we were, at the breakfast table.  Dad asked my mom what was planned for the day and in front of my asshole (at the time because now they are really quite nice) little brothers, my mom replied "Kristi and I are shopping for her first bra today!" which immediately led my closest-in-age little brother to begin a chant-song-nah-nah-rant thing "Kristi's going through puberty!" "Kristi's going through puberty!"
Which obviously later led to me lying on my bedroom floor, staring up at my Christmas clump, listening to Tragedy, by the Bee Gees. Over and over and over again. To this day, this crap song is on my iPod and my iPhone.  Sometimes, in the car, I skip right over it.  Other days?  I turn up the volume and sing along like it's 1979.
Because I know you are dying to know how nubbish my little nub-boobs were, here's a photo.  They were totally visible (ah hem, Mom!).

* foreshadowing
I'm linking up today with my good pal Jen over at My Skewed View (formerly Break the Parenting Mold) for Twisted Mixed Tape Tuesday!
Wanna link up with us?  Enter your post below and happy Tuesday!